Mobilization for the Colombian poet Angye Gaona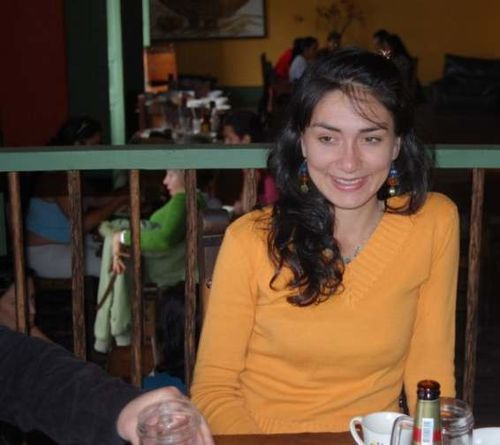 Photo: Daniel Vargas Cuartas
If all we would understand that all we are vulnerable, we would be more human


I ever use to say this way: we human beings are not a curriculum (CV).
We are what we do. But how do we do it. We are what we live, feel, say, see, love, think, write.
Give.
We are the intensity of the commitment with life.
We are what we dream of.
Angye Gaona is not either a curriculum.
She is a 'vibration of living' poet.
She is a burst of innocence. She is a vital force trying to aid, from the poetry that inhabits her, to change life.
None the less, footing is her CV, as an anticipation of forthcoming publications. Cristina Castello

Contact Mail: castello.cristina@gmail.com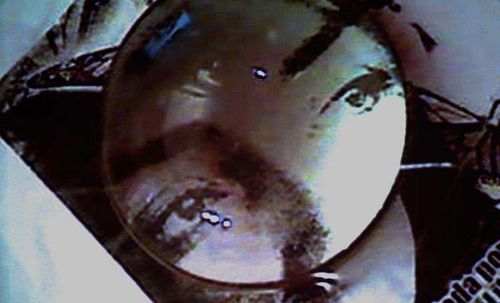 Angye Gaona. Performance Cemente Padin & Dao Claude Nguyen
Biography: in short

Angye Gaona (Bucaramanga, Colombia, 1980) Colombian poet, member to Prometeo and also to the organizer team of the International Poetry Festival of Medellin during five years. In 2001 she organized the I International Exhibition of Experimental Poetry. She has also cultivated the sculpture and radio broadcasting. She lives in her natal city where she accomplishes activities of promotion of the potencies of poetry.
Poems of hers have been included in anthologies, and in printed and digital publications in Colombia and abroad, and recently in an anthology of new voices of Colombian poetry published by the University of Monterrey (Mexico).
In 2009, she edits her first book: «Volatile birth» (Illustrated by Natalia Rendón), and also participates in the International Meeting of Present Surrealism «The secret threshold», (Santiago de Chile), the biggest show held of the surrealistic movement in Latin America.
In 2010 she carries out the experimental poem «The children of the wind», which is accessible at the web site: http://www.wix.com/viento/viento. Her work has been translated into French, Catalan, Portuguese and English. In 2011 she is awarded with the Metropolitan Salon of the Arts «Mire».
In 2012, if she is not in jail till then, she would participate in the International Exhibition «Surrealism 2012" (Pennsylvania, USA).
A Special Bilingual Dossier will be dedicated to her in the next issue of the French poetical magazine «La voix des autres», to be published in March 2012.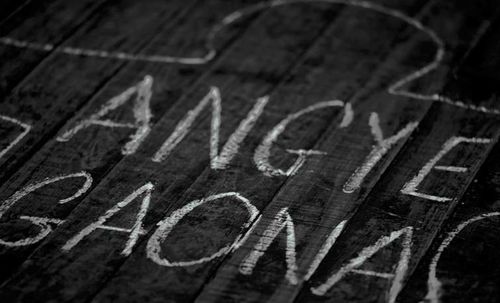 Performance Cemente Padin & Dao Claude Nguyen
Defense Angye Gaona, Colombian poet

Hereafter, it is fundamental that all we become an active part assisting Angye Gaona before the unfair trial to which she will be submitted. The situation is extremely serious for Angye, as you may evidence it.

In January 2011, when returning from Venezuela, where she had traveled to provide herself with some books, she was arrested and put in jail during 4 months in a prison of medium security without any trial initiated against her during her arrest. After an intense campaign of international requests, she was provisionally freed by the expiration of the legal term to initiate a lawsuit against her.

After May 20, 2011, the date of her release from prison, everybody was waiting for the start of the trial against her for the crimes she is insanely accused, on which the public prosecutor's office has not still agreed and has not been clear, namely "conspiracy to break the law aggravated by given drug traffic and rebellion".

Amid the disorder of the prosecution and the courts in Colombia, an unfair trial is near to begin in the city of Cartagena de Indias, more than 800 km from the city where Angye resides and where are her friends, her family and all those able to testify on her behalf. The court did not accept the testimony taken virtually arguing lack of budget.

The forceful true story is that, through her poetic action, Angye Gaona has demonstrated solidarity by means of a cultural and poetic work, with the thousands of political prisoners who suffer in prisons in her country, with workers and their struggle to achieve a stable organization after the murders and disappearances perpetrated against them by the armed forces, the police, the secret services and the death squads, among others, and, finally, with youths of her city, for whom she was constantly creating spaces of meeting and knowledge.

Despite living in poverty, with less than needed to feed her little daughter - with whom she shares, an apartment in a humble neighborhood of Bucaramanga, her city – she is forced to defend her innocence during the trial that was predetermined from the beginning.

Our help is urgently needed. Angye is at risk of being imprisoned up to twenty years or even worse for crimes she never committed.

It is urgent that everyone disseminate this information and other one that will follow. It is very urgent. The injustice lurks. Let life lurks.
And the most of it depends on all of us.

Cristina wrote: If all we would understand that all we are vulnerable, we would be more human. Let's understand it!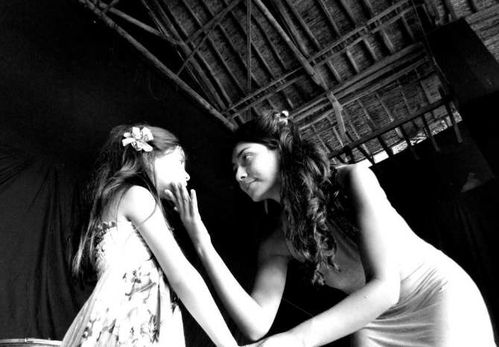 The poet Angye Gaona with his daughter
Photo: Diana Prada

We have a clear duty to report that:

1. - It is being caused an injury to poetry when treating a poor poet of drug dealer.
2. The act of opinion and the solidarity with other ones cannot be punished for any reason.

Cristina Castello, Argentinean poet who lives in France and Angye's friend, makes a fervent appeal to the entire international community to support Angye.
Keep in mind that all of us could face a similar situation to hers.

In Colombia, the vast majority of the population is completely terrified by the bloody repression, and few people dare to show publicly their support for fear of reprisals.
Here are some "links" to articles that describe the situation in Colombia:

http://www.es.lapluma.net/index.php?option=com_content&view=article&id=2613:colombia-banada-en-sangre-a-un-ano-de-santos-cifras-del-terror&catid=90:impunidad&Itemid=422 (Spanish)
http://www.tlaxcala-int.org/article.asp?reference=5935 (French)
http://www.tlaxcala-int.org/article.asp?reference=5878 (English)

If you know people in the arts, literature, human rights, diplomacy, if you are or know the "nobody", advise them on the opprobrium that Angye Gaona is suffering.
We must warn you right now, because time is short.
We need everyone.
We need translator, and word of mouth, "verse by verse", mail to mail, on our action all over the world.

The trial will begin on January 23 and the verdict must be given in two months around. In Colombia there is a wild and terrible repression, supported by the all mighty USA government.

Let's make common cause with this woman, talented poet and household mother. She is about the risk of being convicted without any evidence and unfairly –along with three others: a unionist, a student and a human rights defender, accused of the same charges; they were arrested a few days apart in January 2011 with all the paraphernalia of the military repression, in the same way of big criminals.
All this is done to intimidate the free spirits who still resist the horror in Colombia.


Angye Gaona committed a crime, yes, and she will continue to commit it. Her "crime", her only crime is to be a poet and not to approve the atrocities committed in Colombia. Her only crime is to love her country and to defend it. "Change your village and you will change the world"


According to her lawyers, there is a second indictment; and this is added to the one of drug dealer. It is the crime of "rebellion". Angye in fact falls into a double trap in the case she would demand asylum in a foreign embassy, she could fall upon an international arrest warrant for drug trafficking. However, what she wants is to stay at home, free and working at culture.
I send this message to all those who are still on the heart and have the guts to defend freedom at risk.
It is time to get together in action to put into practice the solidarity, that is not a simple mood or a comfortable exercise of philanthropy.

It has happened many times that the poets, when they were not driven to suicide, were condemned of forbidden (Hikmet, Lorca, Unamuno, Senac, Milosz, and Laâbi Aung Than lately...) because they had a profound vision of human existence, because it was inconceivable for them to resign to the tyrants, or silently tolerate the suffering inflicted on the terrified people and, above all because it was impossible to confuse poetry with the "good conscience moralizing" of lackeys.

Angye Gaona, despite the threats that surround her, shows an audacity, an unusual self-control and energy: she is determined to fight for the common cause of poetry and life, in which freedom of expression is a basic requirement.

Let us give her, just now, a strong international support, by sending a post card to the judges and an email to the Embassy of Colombia in the country of each one.
Fraternity to all.

André Chenet

Model of a post card to be sent to the judge. Everyone may adapt it to his/her own way:
(To be sent by certified mail, if possible)

Juzgado Único Penal del Circuito Especializado de Cartagena Del Adjunto
Barrio Centro de San Diego,
Calle De La Cruz N º 9-42,
Antiguo Colegio Panamericano
2 º Piso 

Cartagena de Indias
Colombia

Name
Address
City, Country
Web site address of each one (optional)


Ref: Radicación or SPOA. 13001-60-01129-2009-02149-00


Your Honor,
As a citizen of the world committed to the freedom of peoples, with my soul and my heart I decided to send this letter to inform you of my commitment and vigilance in relation to the case followed in your court to Angye Gaona, Colombian poet.
I am sure that is not judged in this case a female drug dealer or a rebel, but a "smuggler" of words and poetry, who is aware of the abuses of human rights in her country.
In her name, I ask you fairness and reason, despite any political pressure.
Angye Gaona's poetry and modest living conditions reflect her innocence, better than could the best lawyer. Her only crime is speaking the truth through her poetic work.
It seems to me that it is essential for the Colombian community, the respect for the life and liberty of their poets, who are a bit of the soul of their people.
Waiting, Your Honor, you are the guarantor of a fair trial that honors Colombia's institutions, please accept my expression of respect,


Signature

* after sending this letter (and released a copy by mail to the Embassy of Colombia in your country), please let us know it by sending an email to the poet Cristina Castello :
castello.cristina@gmail.com
* and to know the consequences of this case may you consult these sites:

- http://les-risques-du-journalisme.over-blog.com/categorie-10384816.html
http://libertesconquises.blogspot.com/ (Section: Angye Gaona- French-Spanish)
http://poesiedanger.blogspot.com / (Section: Angye Gaona, on the index, right side. French-Spanish)

The multilingual site for supporting Angye Gaona at Facebook:
- ANGYE GAONA - UIS ARRESTED STUDENT:
http://www.facebook.com/groups/124203477649040/?ref=ts

Electronic Address of Colombian Consulate in France: eparis@cancilleria.gov.co
Search for each country's one in Internet